Originally Posted by Old Goat:
One of the direct style gearboxes from NWSL should work. Dave at NWSL should be able to help as long as you provide him with all the details and measurements.
This is probably your best bet in getting a gearbox that will fit into your drive truck powering the front wheel.
You might be able to use this from Q-car but it will take work and it's ~$100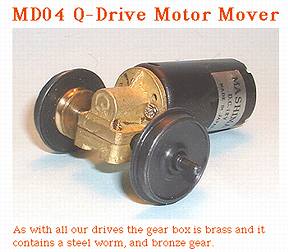 You'll have to change the wheels - Q-car does not have anything to do with 3-rail - no interest in that market and has more than enough business; there's currently at least a 3-6 month wait for a drive truck and trailer.