MTH G Scale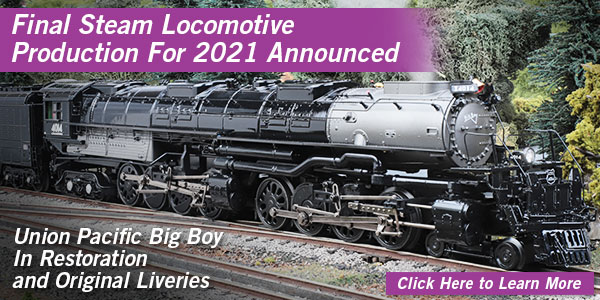 THIS IS YOUR CHANCE FOR THE LAST MIKE WOLF MTH G SCALE BIG BOY!
WE AT TRAINWORLD NEED TO GIVE AN ORDER NOW! PREORDER TO AVOID DISAPPOINTMENT!
INCLUDES AUTHENTICITY CERTIFICATES

Each locomotive will include a signed Certificate of Authenticity by M.T.H. President Mike Wolf and are available in two different versions - No. 4014 Oil Burner in current Union Pacific gloss Restoration livery and No. 4014 Original Coal Burner. Models outfitted with the Restoration livery include the "Big Boy" chalk lettering on the boiler front, tender water level markings and a sound set celebrating the excursion runs of 2019.

Writer Henry Comstock beautifully described the Big Boy's place at the apex of steam engine history: "A Union Pacific 'Big Boy' was 604 tons and 19,000 cubic feet of steel and coal and water, poised upon 36 wheels spaced no wider apart than those of an automobile. That it could thunder safely over undulating and curved track at speeds in excess of 70 miles an hour was due in large measure to the efforts of two long-forgotten pioneers. As early as 1836, the basic system that held its wheels in equalized contact with the rails was patented by a Philadelphian named Joseph Harrison; and a French technical writer, Anatole Mallet, first thought to couple two driving units heel to toe below one boiler in 1874." This enduring symbol of American railroading returns to the rails for the last time from M.T.H. Electric Trains in 2021, complete with quillable, variable intensity steaming whistle. Blow the whistle from your DCS handheld controller, smartphone or tablet, and watch the whistle steam output vary as you "play" the whistle like a prototype engineer.

All models include a powerful motor for pulling power and speed that rival the original Big Boy, as well as authentic articulated chuffing sounds simulating the two drive trains drifting in and out of synch.

MTH #70-3048-1 4-8-8-4 Big Boy Steam Engine (Chalk Mark / Oil Burner)
With Proto-Sound 3.0 - Union Pacific Cab No. 4014
NEVER BEEN DONE BEFORE IN G SCALE!
-------------------------------------------------------------------------------------------------------
MTH #70-3049-1 4-8-8-4 Big Boy Steam Engine With Proto-Sound 3.0
Original Union Pacific Cab No. 4014