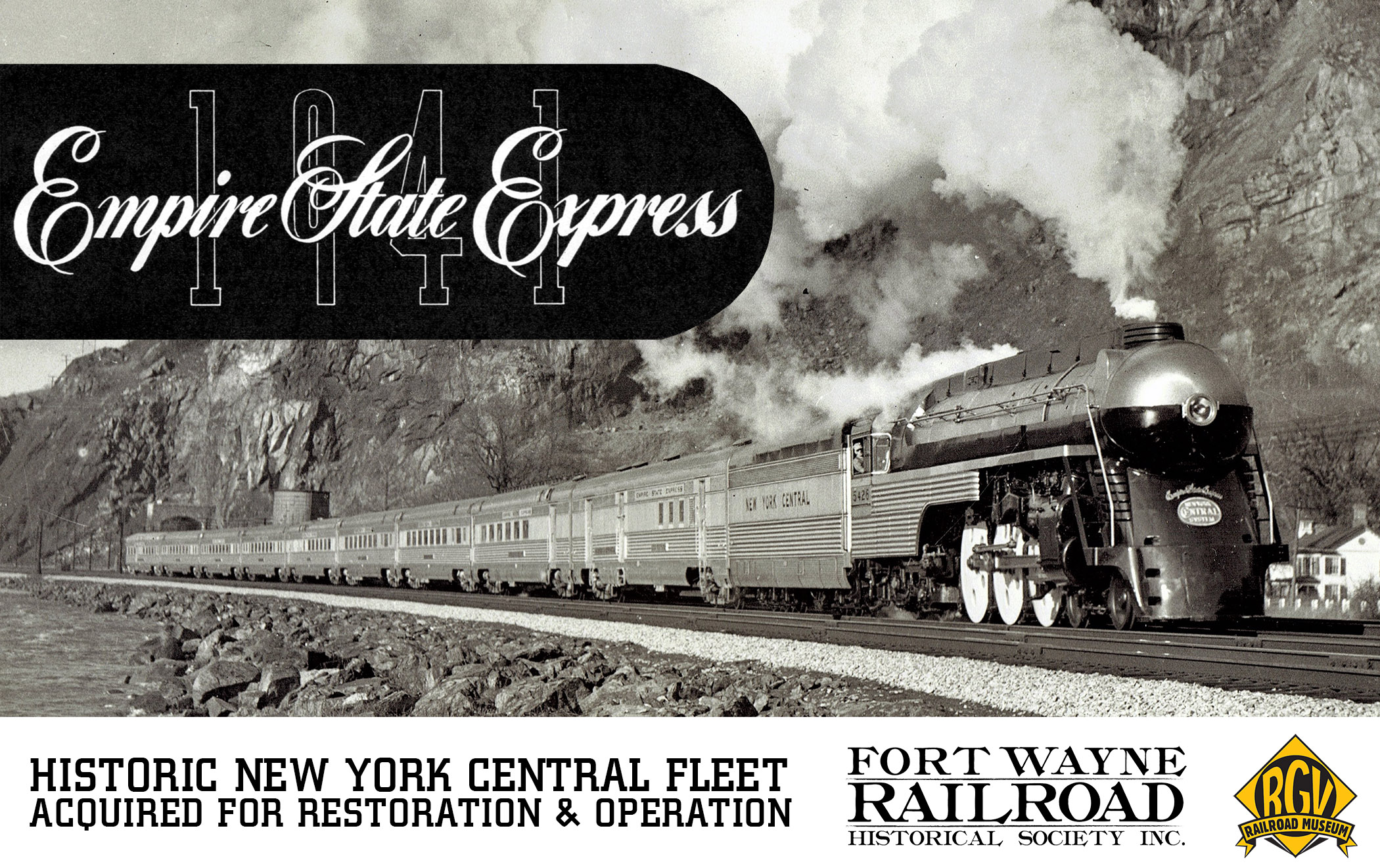 ROCHESTER, NEW YORK — As part of an ongoing investment in its new rail tourism program, the Fort Wayne Railroad Historical Society has acquired seven passenger cars from the Rochester & Genesee Valley Railroad Museum (RGVRM) in Rochester, New York. Once part of the New York Central Railroad's famous "Great Steel Fleet" of passenger trains, the collection is now destined to regularly appear behind restored steam and diesel locomotives from the 1940s and 50s.

Built in 1941 for use on the Empire State Express, a flagship first-class passenger train of the New York Central, the cars will operate over former New York Central trackage in Indiana and Michigan. Restoration of the fleet is estimated to cost over 1.2 million dollars, with plans to fund the work through donations, grants, and ongoing ticket sales over the next several ensuing years. The organization's first goal is to raise $160,000 in order to place one coach in service in 2024. A capital campaign has been launched at greatsteelfleet.org.

"This acquisition will ensure we have a dedicated fleet of our own equipment for both the Indiana Rail Experience and future steam excursions around the country and helps strengthen our business model," said Joe Knapke, President of the Fort Wayne Railroad. "Rochester's care and stewardship in preserving this equipment through the years means that the cars will be enjoyed by thousands of people every year."

The streamlined Empire State Express operated between New York City, Detroit, and Cleveland, and each of the preserved cars debuted in the inaugural run on December 7th, 1941 – only hours before the attack on Pearl Harbor. In later years, they were rebuilt for commuter service. Six cars from the fleet were acquired by the Rochester Chapter of the National Railway Historical Society in 1987 and made part of their growing museum collection where it was later joined by a railway post office car to complete the set. Refurbished by volunteers, the cars were used for a series of seasonal fall foliage excursions operated in the region through the 1990s and early 2000s, with the most recent trip taking place in 2019.

"These cars were state of the art when introduced and are beautiful examples of innovative, stainless steel construction during a period of optimism and investment in passenger rail," said Otto Vondrak, president of RGVRM. "These lightweight, stainless steel cars set the standard for a generation of the traveling public. The Budd Company built these cars to last and they are destined for a bright future," detailed Vondrak.

Over the next several years, the cars will undergo modernization of their mechanical, heating, and electric systems and additional work will update restrooms and seating. Two cars are likely candidates for conversion into first-class cars dining or parlor cars inspired by the New York Central's original designs. The acquisition of the equipment was partially funded by a grant from the David A. Donoho Trust and the Central Indiana Foundation.