Back in the mid 1990's 3rd rail constructed and imported brass PRR p54 cars. There was a baggage, combo and coach cars. Unlike the numerous PRR P70 coaches that are 80'long or 20" O scale, the P54 cars are a mere 64' long or approximately 16" long O scale. These cars would fit nicely in many o scale and o guage layouts just like the MTH 64' 1890's cars do.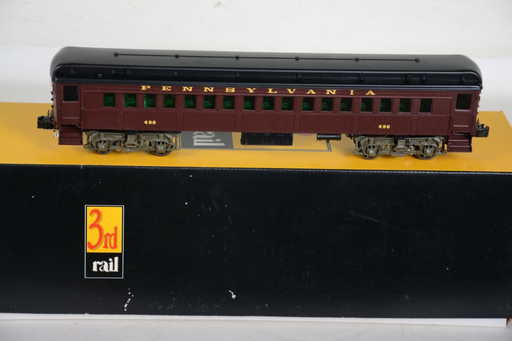 Since it has been over 15 years and technology has changed a bit, are there any PRR fans that want a passenger set that's prototypical for those layouts with less than O72 curves on them?
I see the following railroads may have purchased them second hand:
PRSL, Erie, NYS&W & N&W,
Maybe this time around Scott M can add the Postal Baggage car to the set!